(b.1994, France), Léo (he/him) approaches themes as varied as shopping-malls, cyber- security, tourism, cloud-computing, hostile-urbanism, pornography or sport-streaming. Often combining naive visuals with incisive writing, his work raises doubts over dominant narratives regarding identity, territory, intimacy and the commons. Alarmist scenarios represented in candid aesthetic and structural forms of power drawn as a formal mockery bring together humour and cynicism – meeting points of pleasure and thought.


PUBLICATIONS

2022 Fake News [illustration] published in Delva magazine.
2021 Oligopticon [article] published in RIFE magazine.
2020 La Chaise [article] published in État des Lieux magazine.


RESIDENCIES

2023 Artistic residency in RAMA, Portugal.

EDUCATION

2018 Master in Architecture in Faculté d'Architecture La Cambre Horta-ULB, Brussels, Belgium.
Prix Mémoire – Cybersecurity: The Possibilities of a City.

2023 Raku ancestral ceramic technique in CENCAL, Caldas da Rainha, Portugal.
2019 Workshop Tourism for a more inclusive and positive impact in ESAD, Caldas da Rainha, Portugal.
2017 Erasmus Program in FAUL, Lisbon, Portugal.
2017 Workshop Surrender-Resistance with Marc Godts in Bruxelles, Belgium.
2016 Workshop Alternative Futures for Polje with Alain Simon, in Sarajevo, Bosnia and Herzegovina.
2015 Workshop Architecture and Geometry with Kiran Katara, in Torino, Italy.






From the inside of a group of sculptures with varying degrees of shapelessness, breathing and a voice emerges, repeating a poem reflecting on the fluidity of matter and the permeability between the functioning of Artificial Intelligence and certain states of human consciousness.
Audio-visual Installation / Five glazed stoneware pieces and sound system / Variable Dimensions
in colaboration with Madalena Lopes.
© Alexandre Delmar / Culturgest


Amorphous Doubts
2023
2/10
+
Walking far away through arid regions, on sunny days after abundant rainfalls and beyond the highest hill of the village, one would witness the comings and goings of a red being. The creature's eyes are like the ones of a lunatic and its heart weighs as much as the bag of earth they bear. They carry clay and clay contains water – a vessel whose sweat dissolves into amorphous mud. 
Installation / Sculptures made from unfired natural clay, wood and rope / Variable Dimensions
in colaboration with Madalena Lopes.
© Catarina Gentil / Rama


As soon as you follow the tip of a divining rod, the (why) Y-Shaped prosthesis of the dowser plunges you into a conversation with water inspiration and liquid mirages. You may be drawn into a wet vision. Because the water diviner is nothing more than a crawling antenna, you have been engaged in an endless transmission of subterranean geolocations: the exact intersections of two numerical coordinates. 
Video / HD 4:3, PAL, colour, sound, 2'49'' with voice-over excerpts from the poem The Water Diviner (1994) by Dannie Abse / Variable Dimensions
in colaboration with Madalena Lopes.
© Catarina Gentil / Rama


Natures Mortes
2023
4/10
+
Natures Mortes illustrates the banality of public space, except that all three seem to have been corrupted by accidental or inappropriate human intervention. Whether their function is to delimit/contain/protect, each of them has been given a new use 'by accident' or driven by a need other than the one that determined its original form.
3 Paintings / Acrylic on paper 200gr, colour, frame in glass and wood / 148 x 210 mm.
© Madalena Lopes / Ava


Near bourgeois neighbourhoods, the "darkstore" supplies 24/7 essential sweets to a horde of dynamic young entrepreneurs watching from their window the ballet of lithium-powered deliveries such as a required ritual of servitude in order to compensate the self-exploitation to which they daily submit. 
Illustration / Ink-jet on paper 325gr, tones of grey/ 210 x 297 mm.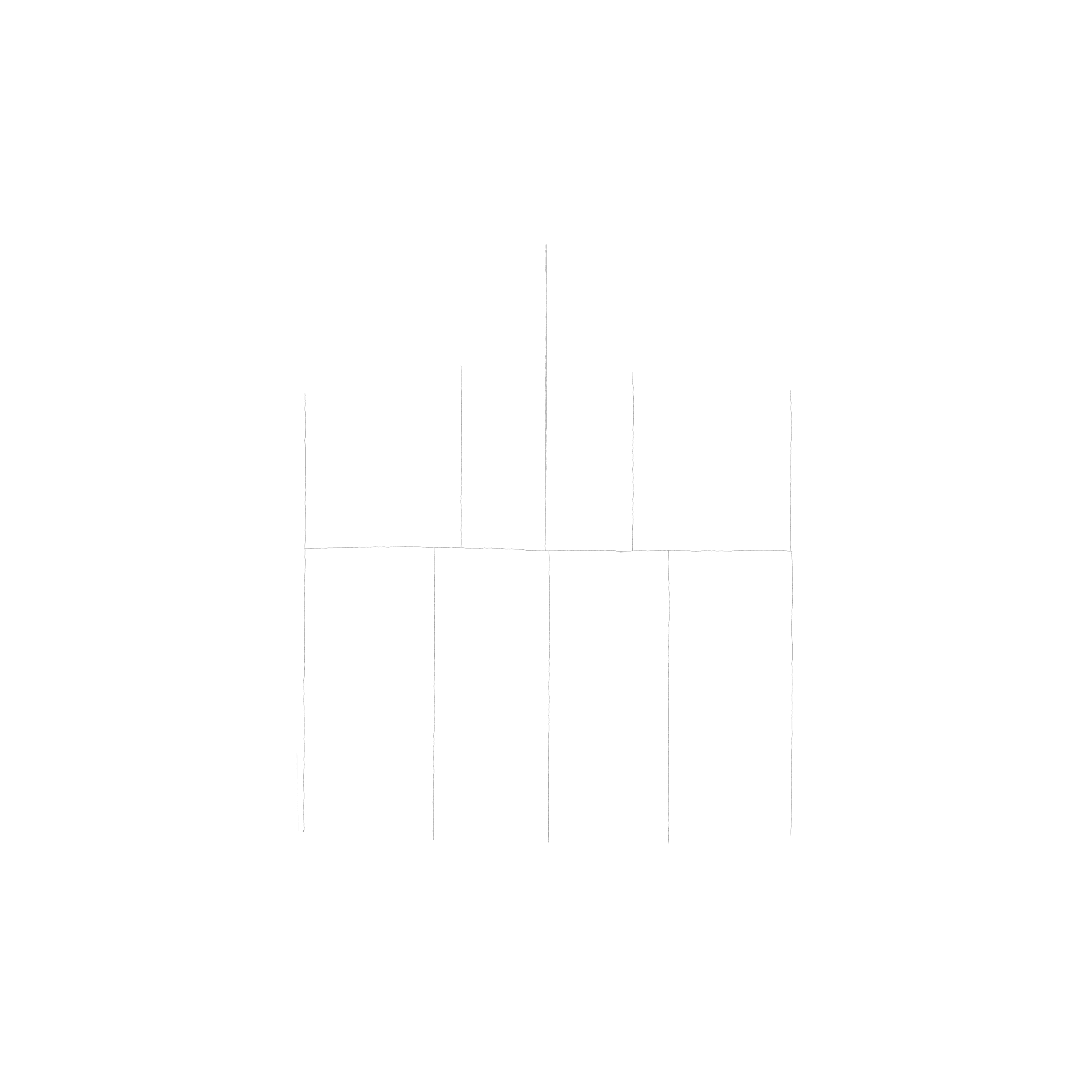 A colossal reservoir of tunnels will be burrowed deep beneath the ground, underneath the soil surface, crossing between the global network (backbone), the subscribers (terminal) and, retroactively, the archive repository (datacenter). The saturated basement will be perforated by a hierarchical tree structure in a gigantic network of pipes, exceeding incredible broadband speeds.

Published on Rife–Magazine
Article + Illustration / Animated loop GIF / Variable Dimensions.
© Collectif Hiatus / Rife


What would remain of post-industrial society? It will hopefully be submerged by some sort of lava. An unescapable predicted disaster melting our laptop into misunderstood fossils or transformed into lucrative fuel, lithium handcrafted jewellery and rare earth pottery glazing. The dark tones of the earth will be seen as the conductors of the storm loaded with the legacy of the memory from earlier tribes of humanoïdes.
Installation / Twenty handmade pieces in stoneware, glazed using the Raku technique / Variable Dimensions / in colaboration with Madalena Lopes.


A mental catalogue of blurred snapshots ordered according to an order of passage ends up constituting the memory to which the postman will refer daily as he carries out his daily journey. Unlike the postcard, which imposes a precise image on the memory, the souvenir transforms static places into vague mirages that are mobile at the mercy of one's tiredness and falsifying interpretations.
Installation / Nine sculptures in stoneware, non-glazed / Variable Dimensions / In colaboration with Madalena Lopes.


There is a football stadium where the amplitude of the screams depends on the sincerity of the call for help: simulations are authorized there but remain silent. Often players perform a dive to abuse the referee. We then see the bodies of the dishonest being dislocated on purpose in a religious silence. 
Illustration / Risography on paper 325gr, tones of grey / 297 x 420 mm.


the smell of newness everywhere/ fever hosted on hardware/ the pixels streamed on my bare chest/ trigger my cognitive process/ confined by blue empty screens/ binary sink into my flesh/ starting to browse in the dark/ media market brand soundtrack/ your beam of light toward my thighs/ my womb broadcast guilty pleasures/  
Fanzine / Ink-jet on paper 90gr, binding with whool wire, tones of grey / 70 x 150 mm.